Products for steam boilers
M.M.T. s.r.l.
Level switches and probes
Since 1974, M.M.T. srl designs and produces level switches and probes that control the level of conductive liquids, insulating materials and powders.
For level measurements, a wide selection of probes is available for applications like high pressure and high temperature boilers, or food and chemical industry. Level switches feature sensitivity regulation, time delay setting, or IP55 enclosure.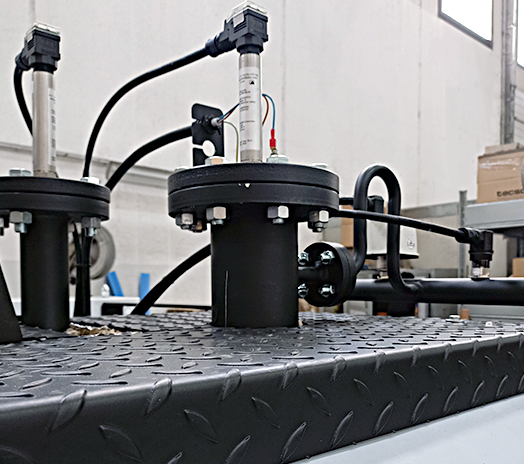 WHAT WE DO
Our mission
Offer a wide range of products for steam boilers, well designed and functional at prices so competitive that they have the best value for money.
The level can be measured on/off or continuously. Continuous level meters are devices that operate in industrial processes and carry out continuous measurement online and in real time. They are based on conductive or capacitive technology, with different types of sensors depending on the type of material to be controlled.
OUR HISTORY
From 1974 to TODAY
1974
Our company was born as an individual company for the design / construction of automation and electrical wiring.
1984
The company is enriched with new skills in the electronic field, gradually orienting itself towards industrial electronics.
1992
The company takes the name of M.M.T. and production is moving more and more towards products derived from a winning combination of electronics and mechanics, also producing electro-medical equipment; but above all high-tech products in collaboration with university research institutes, for the on-line measurement of the humidity of food materials, using innovative proprietary microwave techniques.
2001
Always looking to produce and supply quality products, we obtain the ISO 9001 certification which guarantees the quality of our work.
2002
The company moves by transferring its historic headquarters from Pianengo (CR) to Capralba (CR), in the meantime it focuses more and more on the development and production of intelligent sensors for high temperature industrial boilers, implementing a electronics with dedicated hardware and software, for complete integration in industrial production plants.
2004
The market is asking for the construction of certified industrial boilers, therefore always active and reactive to follow the needs of our customers, we launch a PED certified safety level sensor on the market.
2011
We certify a special level probe for diesel fuel used on truck tanks for continuous level monitoring as a remote pick-up surveillance system.
2015
Certified products are increasingly in demand and therefore we certify SIL our maximum / minimum level alarm management safety system, initially as SIL2 to subsequently carry out a SIL3 certified evolution.
TODAY
The constant and continuous research to create quality and highly technological products leads us to propose various evolutions of our main products, more and more compact, without ever losing sight of reliability, thus obtaining a clear appreciation from our customers.
Support and Installation
OUR SERVICE FOR YOU
To allow all our customers to make the best use of our products, we have created Application Notes that refer to all our devices.